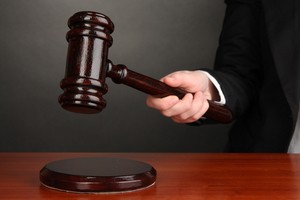 Your trial date for Virginia DUI sneaks up quickly after the arrest. In many cases, you'll have trial within 90 days of the offense. What happens then?
Preparing yourself
One big question clients ask me is what they need to wear and bring to court. I like it when people are thinking ahead!
Dress at least in business casual attire. For guys, if you have a suit, that's a great choice. But at least wear a nice shirt and nice pants.
The main thing to bring to court for a DUI trial is your Virginia driver's license (if you have one). If you're found guilty, the clerks will need to take your license to begin your license suspension.
In some cases, my clients will be bringing other things as well, such as character letters and work documentation.
Also, you may want to be prepared to pay your fines and costs (if any) on the trial date. The courts accept cash, checks, and money orders. They accept Visa and MasterCard, but they charge an extra 4% for that option. In DUI cases, that 4% adds up.
Trial decisions
Your DUI trial will be heard in the General District Court where the offense occurred. The initial trial will be handled solely by a judge (no jury).
When you arrive at court, you'll discuss any final plea negotiations with your attorney and make a decision about how to proceed. In most DUI cases, you'll have two choices:
A. Accept a plea agreement
B. Plead not guilty and have a trial

My goal for my clients is to have all the information we need BEFORE the trial date, so we'll know how we will be proceeding ahead of time. It's not always possible due to the lack of evidence sharing in Virginia; therefore, sometimes we'll have to make critical decisions on the morning of court.
In front of the judge
When you go before the judge, you'll enter your plea, and the case will proceed accordingly.
If you are accepting a plea agreement, your attorney will guide you through the process with the judge. If you're having a trial, your attorney will tell the judge that you're pleading "not guilty," and the trial will begin.
A General District Court DUI trial isn't like what you've seen on TV, but it is a full-fledged trial where the Commonwealth will put on witnesses, you can testify, and your attorney will argue on your behalf.
If you're found guilty of DUI, you may have some pressing issues on the trial date, such as jail time and obtaining your restricted license.
Jail
Fortunately, most DUI charges don't end up with active jail time. However, jail can be required for even first offenses.
Here's the good news: you don't have to serve jail time starting on your trial date. We have two options to delay any jail you might have to serve:
1. Delayed reporting – The judge can authorize you to report directly to the jail on a later date. This is discretionary, so there's no guarantee with this option.

2. Appeal – You have the absolute right to appeal your case, which pauses any jail time. Noting your appeal at trial means that you can go home, arrange your affairs, and come back within a few weeks to serve your jail time.
Restricted license
For any conviction of DUI, you're facing suspension of your Virginia license (or privilege to drive in Virginia). Fortunately, if this is your first offense, you should be eligible for a restricted license immediately upon conviction.
Expediting that restricted license is one reason I always recommend working with a DUI attorney who is local to the court. With some courts, you might be able to get your restricted license on the day of court. However, others have specific days when you have to return to apply for your restricted license.
The best way I've found to speed up the restricted license is to bring your restricted license application and supporting documents on the trial date. To make the process even smoother, you can pre-enroll in VASAP and have your interlock installation scheduled for the day after your court date. If all goes well, you might be driving to work the day after trial.
Next, let's learn how you can go about handling the aftermath.